Former Bell Mayor George Cole, sentenced Wednesday to home confinement for his role in the small city's corruption case, said after the verdict that is filled with shame and remorse for the scandal.
A onetime steelworker and the son of a Presbyterian minister, Cole was ordered to sentenced to 180 days of home confinement and five years of probation. He was also ordered to perform 1,000 hours of community service and pay back $77,000 to the working-class city that was pushed to the edge of bankruptcy by fiscal wrongdoing.
"There's no way to express the shame, the remorse," Cole told Superior Court Judge Kathleen Kennedy, who has presided over the Bell trials.
Cole had built a reputation as a community leader who embraced Bell's shift from a white, middle class city to a town dominated by immigrants.
"George Cole is a Latino leader even though he is not Latino," Supervisor Gloria Molina once said.
But Kennedy said Cole rewrote his legacy by drawing an oversized salary for serving on boards and commissions that seldom, if ever, met. Four other former council members also were convicted and pleaded no contest to identical charges.
"Mr. Cole has done a lot of good things for a lot of people," the judge said. "Unfortunately, his legacy really has been tarnished and this is what he probably will be remembered for."
Deputy Dist. Atty. Sean Hassett, who had asked that Cole be sentenced to four years in prison, put it in harsher terms: "He betrayed the people of Bell."
Cole, who served as both a mayor and council member in Bell, was one of eight people arrested in 2010 after the enormous salaries and financial irregularities were exposed.
One of the council members, a preacher in the community, was found not guilty but the others were all convicted.
Cole is the second to be sentenced. Former Councilman George Mirabel was sentenced this month to one year in county jail, though his attorney predicted he would only serve days behind bars.
Thus far, Kennedy has reserved her toughest sentences for the administrators who ran Bell. Robert Rizzo, the domineering city manager, and his second-in-command, Angela Spaccia, each was sentenced to 12 years in prison.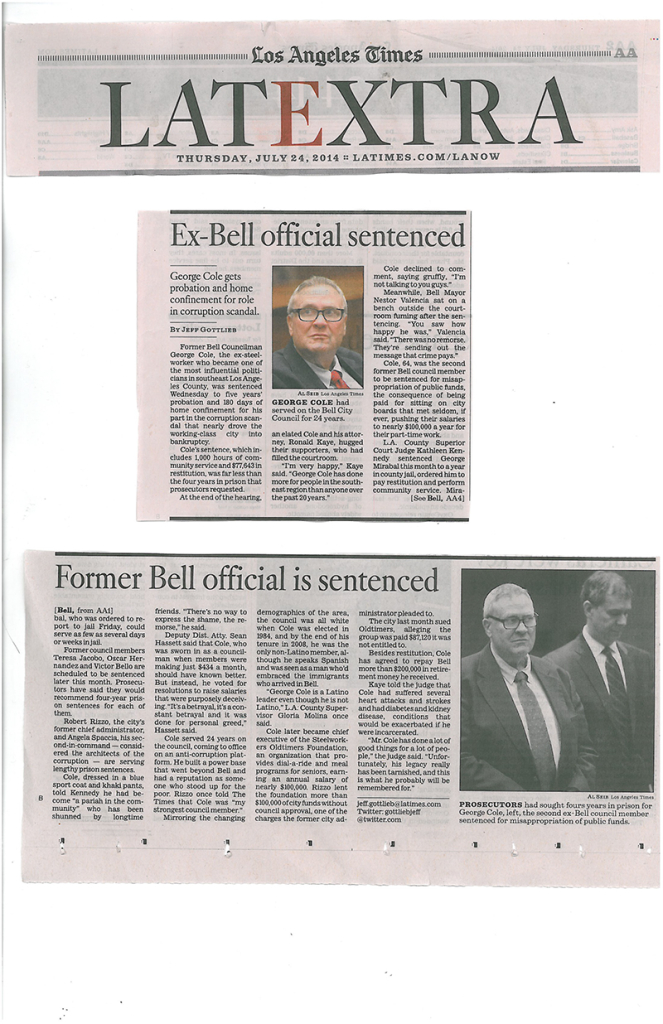 Source: Los Angeles Times